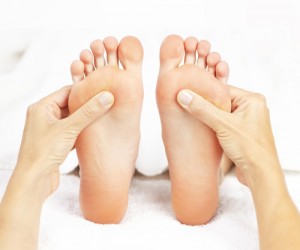 Reflexology is an ancient healing art that dates back to over a thousand years. It has been embraced into many cultures. In India it became a main stream medical therapy and in Germany the study of reflexology is said to be comparable to a medical physician. Reflexology is recognised and used worldwide for the treatment of many conditions and ailments.
The reflexology pressure points found on the hands and feet act as a map for healing the anatomy. The systematic application of pressure to the reflexology points stimulates the body to rejuvenate and heal itself. By working the feet or hands treatments open the subtle electrical channels that become blocked due to physical and or emotional imbalances.
Pain in the feet or hands can often indicate what system of the body may have become imbalanced. During treatment the root of the imbalance is addressed. It aims to change the energy and cellular patterns within the body.
Reflexology has been shown to be affective for many conditions.
A few examples are given below.
Glandular and endocrine imbalances